Scouts, Girld Guides, School Groups Climbing Program
A Special Program for Scouts, Girl Guides and School Students
This program was inspired by Ron Currell who as a volunteer taught scouts climbing, rappelling and ascending for decades, and then retired in late 2013. In 2014 this program began its operation following the signing of an agreement between Scouts Canada and Zen Climb.

This one-day program offers an outdoor rock climbing experience to scouts and their leaders, girl guides and their leaders, students and their teachers at a special rate.  Groups have the option to add rappelling to the day.
"Thanks for setting up a great outing on Saturday, April 16, 2016. All the Scouts, Cubs and Leaders had a terrific time. Boris and his team (Kaylan and Scott) were very professional and patient. I and the other Leaders felt we were in good hands. Boris in particular  was able to make the instructions seem very easy to grasp. I would say he is very good not only at rock climbing but in his position as Lead Instructor.  All in all, a very worthwhile adventure. We look forward to booking with you again next year."  Lee Merrick, 31st Capilano Scouts, North Vancouver, BC

"My rock-climbing team had such a fantastic experience outdoor climbing with Zen Climb! Our instructors, Lilies and Kim, were extremely conscientious and thorough with regards to safety, and teaching students how to manage hazards in the environment. Their philosophy of "Challenge by Choice" made it accessible for students to climb at their own pace and at their own edge. Their ability to connect with youth and read their needs made the day so enjoyable for us all. They set up a nice variety of routes to suit the variety of skill level within the group. The experience was truly life-changing for me and my students; it was a day we will remember forever." -- Allison Sebastian, Special Education, Rock-Climbng Coach, Markham District High School, Markham, ON

"The (instructor) team was very friendly, helpful and encouraging." Allison Agostino, 281st Rangers, Girl Guides, Georgetown, ON

Pre-requisites: Being able to walk up a flat of stairs independently.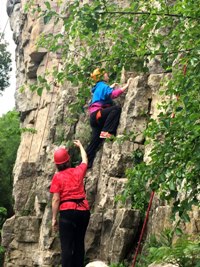 Duration: 1 day, April - November. (6.5 hours for climbing only; 8 hours for climbing and rappelling)
Location in Ontario: Rattlesnake Point Conservation Area, 7200 Appleby Line, Milton, Ontario
Location in British Columbia: Smok Bluffs Park, 38551 Loggers Ln, Squamish, British Columbia
For more information, please view Itinerary, Facility, Equipment, Preparation and FAQ
Fee: $90/person + tax (HST in Ontario; GST in British Columbia) for groups of  6, 12, 18, 24, 30 or 36 participants including group leaders. -- Minors must be accompanied by at least one participating adult.
Rappelling can be added to the day for $15/person + tax for groups of  6, 12, 18, 24, 30 or 36 participants. Scouts can add rappelling for free.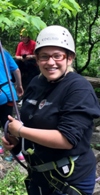 If the number of participants in your group is not exactly the above numbers, for instance, 9, you have the option of paying the additional 3 participants at the regular rate for a group of 3 participants, or paying for 12 at the youth group rate, whichever is less.

You can book a weekday or weekend day.  Please email us your desired dates.  We will verify the availability of our instructors and confirm your booking. Thanks!
Register:
Please fill the form below or Contact Us by email or phone to provide required information. Fields with (*) are required.

By submitting the above information, you agree to our Booking Conditions and Cancellation Policy.
Booking Conditions:
All scout participants are required to read, understand and sign this informed consent form. All girl guide and school group participants are required to read, understand and sign this Waiver. Those under the age of 18 years must have a parent or legal guardian co-sign their consent form or waiver, and must be accompanied by a scout leader participant or a girl guide leader or a school teacher. The minimum age to rappel is 9. The minimum age to climb is 6.
Cancellation Policy:
Cancellation must be made 30 days prior to the start of the program in order to receive a 50% refund.  Otherwise, no refund will be issued.  You may transfer your reservation to another person within one week of the program (course, camp or retreat) start date. The administrative cost for this is $30 per person.
Nature tests us and nurtures us.  Zen Climb may at its sole discretion reschedule or cancel a booked program due to extreme risky weather conditions or other factors justifiable by Zen Climb. In the event of such a cancellation, we will notify you the cancellation the day before the start of the program.  You may reschedule and attend the same or similar course/program within six months or receive a 50% refund. If you did not receive a cancellation call from us, assume the program will run as scheduled.
Privacy Policy:
We take the protection and proper use of your personal information seriously. We respect your privacy, and take great care to safeguard information in our possession. For your peace of mind, please read our Privacy Policy in its entirety.  Thanks!
---