Snowshoeing and Igloo Building
Snowshoeing and Igloo Building
Enjoy the great gift of snow offered by our Canadian winter. In this one-day program, we will snowshoe on a scenic trail, build a shelter and make a hot drink (tea, coffee or hot chocolate).
This is a great experience to develop some winter survival skills. Depending on the snow condition, our shelter may be an igloo, quinzee, snow fort or snow cave.  Wherever permitted, we will make a fire with natural materials to boil snow/water to make hot drinks.
Pre-requisites: Fit to hike.
Duration: 1 day, December to March.
Location: Nature trails in GTA or 1-3 hours north of Toronto depending on the time of the year.
For more information, please view Itinerary, Facility, Equipment, Preparation and FAQ
Fee: $120/person + HST.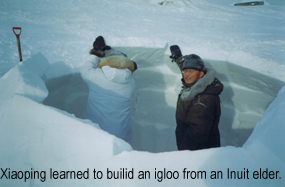 Volume Discount:
$90/person, for 2 people
$80/person, for 3 people
$75/person, for 4 people
$60/person, for the 5th and every additional person
With the above fees, you can book a weekday or weekend day.  Please email us your desired dates.  We will verify the availability of our instructors and confirm your booking. Thanks!
Register:
Please fill the form below or Contact Us by email or phone to provide required information. Fields with (*) are required. In the comment section, please indicate the weight of each participant, so we can provide the appropriate snowshoes.

By submitting the above information, you agree to our Booking Conditions and Cancellation Policy.
Booking Conditions:
All participants are required to read, understand and sign this waiver of liability. Those under the age of 18 years must have a parent or legal guardian co-sign their waiver and have it brought to the course.
Cancellation Policy:
Cancellation must be made 30 days prior to the start of the program in order to receive a 50% refund.  Otherwise, no refund will be issued.  You may transfer your reservation to another person within one week of the program (course, camp or retreat) start date. The administrative cost for this is $30 per person.
Nature tests us and nurtures us.  Zen Climb may at its sole discretion reschedule or cancel a booked program due to extreme risky weather conditions or other factors justifiable by Zen Climb. In the event of such a cancellation, we will notify you the cancellation the day before the start of the program.  You may reschedule and attend the same or similar course/program within six months or receive a 50% refund. If you did not receive a cancellation call from us, assume the program will run as scheduled.
Privacy Policy:
We take the protection and proper use of your personal information seriously. We respect your privacy, and take great care to safeguard information in our possession. For your peace of mind, please read our Privacy Policy in its entirety.  Thanks!
---