Summer Camp | Rock Climbing | Youth & Adults| Ontario
Rock Climbing Summer Camp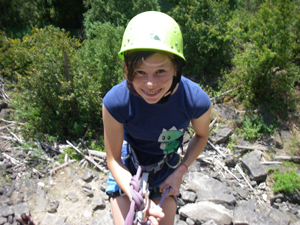 This camp is for dedicated climbers, youths and adults, to develop their overall outdoor risk management skills from climbing movements, rappelling techniques to top rope anchor setting, sport lead climbing and traditional lead climbing, based on each participant's readiness and aspiration.
Parents are welcome to participate either par to the camp week or the full camp week.
If it rains on a particular day, we will conduct sessions on knots, anchors, and the physics of forces in rock climbing and equipment.  We may also run activities that facilitate personal development in self-awareness, self-leadership and building positive relationships with others.
"Xiaoping made sure that we were all in agreement with our goals for each day. We discussed together the things that we hoped to achieve and worked from there. Always a great experience!"-- Bryn Salai, Burlington, Ontario (Sept. 13, 2015)

"This was by far the best summer camp I have ever been to! Xiaoping asks us to come up with our goals for the week and helps us to reach them. I learned so much about outdoor climbing and had an amazing time!"  -- Bryn Salai, Burlington, Ontario (August 26, 2014)

"Xiaoping was a great instructor and I learned a lot about climbing and myself. It was one of the best weeks of my life."  -- Rahul Sapra, Oakville, Ontario (August 6, 2013)
Age: 12 and up.
Week: July 24-28, 2017 (Aug. 7-11, 14-18, 21-25, 2017 is available for group registtration only.)
Time: 9:30am - 5:30pm
Location: Rattlesnake Point Conservation Area, 7200 Appleby Line, Milton, Ontario
Getting There: Driving, carpooling or camping. If you would like to carpool or share a camp site with fellow campers, please let us know in the Comments Section when you register below. Or you can post a request on our facebook page: www.facebook.com/zenclimb
For more information, please view Itinerary, Facility, Equipment, Preparation and FAQ
Fee per week: $600/person+HST, minimum 2 participants are needed to run this camp.
Group Registration Discount:
$550/person, for 2-3 people
$500/person, for 4-5 people
$450/person, for 6 or more people
$100/day/person, for a parent attending part of the camp week.
Register:
Please fill the form below or Contact Us by email or phone to provide required information. Fields with (*) are required.

By submitting the above information, you agree to our Booking Conditions and Cancellation Policy.
Booking Conditions:
All participants are required to read, understand and sign this waiver of liability. Those under the age of 18 years must have a parent or legal guardian co-sign their waiver and have it brought to the course.
Cancellation Policy:
Cancellation must be made 30 days prior to the start of the program in order to receive a 50% refund.  Otherwise, no refund will be issued.  You may transfer your reservation to another person within one week of the program (course, camp or retreat) start date. The administrative cost for this is $30 per person.
Nature tests us and nurtures us.  Zen Climb may at its sole discretion reschedule or cancel a booked program due to extreme risky weather conditions or other factors justifiable by Zen Climb. In the event of such a cancellation, we will notify you the cancellation the day before the start of the program.  You may reschedule and attend the same or similar course/program within one year or receive a 50% refund. If you did not receive a cancellation call from us, assume the program will run as scheduled.
Privacy Policy:
We take the protection and proper use of your personal information seriously. We respect your privacy, and take great care to safeguard information in our possession. For your peace of mind, please read our Privacy Policy in its entirety.  Thanks!
---