Outdoor Rock Climbing, Rappelling & Rescue Courses | Rattlesnake Point | Milton | Smok Bluffs Park | Squamish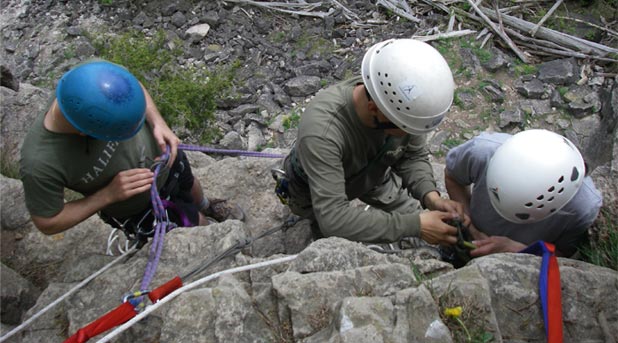 Our technical outdoor rock climbing courses combine some best risk management practices used by Association of Canadian Mountain Guides (ACMG) and American Mountain Guides Association (AMGA).
The progression of these courses and lessons are designed for the rock terrains along the Niagara Escarpment from Milton to Beaver Valley to Lion's Head in southern Ontario, as well as for the rock terrains in the squamish, and other climbing areas in British Columbia, and for teaching climbers to learn fundamental climbing lessons and skills so that they can progress to eventually be able to climb in the mountains alpine style.
Our certified instructors are sensitive to clients' learning styles and put safety above anything else.  We assist you to master fundamental risk management practices to progress to advanced setups through in-class lessons and post-course support, so you will have the necessary risk management skills to surive climbing for years to come. You learn a lot of lessons in one course!
Our courses are offered on as-needed basis. You can book us 7 days a week as long as our capacity allows.  Please check our calendar to see if you can join a scheduled course first.  If not, pick a date that works for you and we will most likely be able to schedule your course on that date. To secure your date, please book as early as possible.
"Your lessons on top rope anchor setting with rope, webbing and cord with the different anchoring options and techniques were delivered with professionalism and care. We appreciated it very much! We came away having learned more than we ever expected. I would recommend this course to anyone who needs to understand top rope anchor setting. Without it one could think they understood what to do but they would be at risk. Thanks again!" --  Ken Briggs and Mike Winger, Huntsville, Ontario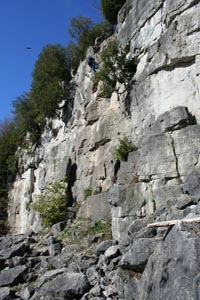 If you are curious and want to try outdoor rock climbing, this program is for you.  You will have a great time climbing a cliff at either the beautiful Niagara Escarpment or the breathtaking Squamish area. Read more...
Experience the thrill of being high in the air.  Conquer your fear of heights.  Enjoy a panoramic view of the escarpment country.  Candidates of this course include beginners, experienced climbers, mountaineers, firefighters, military staff, high ropes course instructors, etc.  Read more...
You can try both rappelling and climbing with this program.  Using the most up-to-date techniques practiced by AMGA and ACMG, you can pack the excitement of both rappelling and climbing in one day.  Read more...
You have climbed indoors and you want to be able to set up top rope anchors and climb outdoors on your own. This couse is specifically designed for you.  Taught by an ACMG or AMGA certified instructor, you will learn the necessary skills to manage challenges at the top and bottom of, and on, the cliff.  Read more...
You have taken our Gym to Crag: Top Rope Anchor Setting and Climbing course or equivalent and you want to gain the complete skill set for top rope climbing so you can handle the situation where the bottom of the cliff is not accessible or the walk down to the bottom of the cliff is not desirable.  Read more...
This course teaches all the required skills for leading bolted sport climbing routes, including belaying and leading techniques, communication protocol, equipment use and choice, problem solving in challenging situations, how to safely fall and other important lessons from your highly qualified instructor. Read more...
This course provides you a solid foundation in safety practices in all aspects of traditional climbing. You will cover a wide range of subjects from equipment, gear placement, movement skills to anchor setting, leading strategies, belaying and rappelling, and the climbing physics. Read more...
This course prepares you to start climbing multi-pitch routes with a comprehensive set of skills that focus on safety, efficiency and problem sloving.  You will find what you have learned in this course useful not only for your 2-4 pitch climbing in Bon Echo in Ontario but also for the over 10-pitch climbs in the Canadian Rockies. Read more...
Improvised self rescue techniques are mostly used by climbers to get themselves and their climbing partners out of tough situations. Being prepared and competent with improvised self rescue techniques will help you save yourself or your climbing partner(s), or enable you to help a climbing party in trouble. Read more...
You are interested in becoming a qualified instructor to teach beginners to rock climb and rappel outdoors safely. We provide you the necessary training and practicum to become a competent Top Rope Rock Climbing Instructor. Read more...
Private guiding trips, lessons, special group rates, customized programs at locations across Ontario, British Columbia and Alberta, Canada are available.  Please contact us to discuss.
---